In all my years of teaching, I've only experienced two coincidences with my students (which shouldn't be surprising because coincidences are meant to be rare, right?). The first one is very personal so I would never divulge that online regardless of my propensity to overshare. But, for the second one, I got the permission of my student to write about it and even post some of the pictures he took.
I have a student who works at an art gallery. I happen to be interested in art even if my art knowledge is only superficial at best and some may even call me a dilettante. Because of our mutual interest, I enjoy my lessons with him.
Naturally, we talk about art and he asked me once about my favorite artists. I have a few actually, but at that time, only Mark Justiniani came to mind. He is a Filipino artist who is most recently known for his art installations which make use of optical illusion; I think early in his career, he started with paintings. His latest work, on the outside, looks like a typical shanty in informal settlements in Manila. But, inside it's a totally different scene. The floor, for example, looked bottomless. Some kids reportedly cry when they went inside because they thought they would fall. It reminded me of one very popular line from BBC's Doctor Who about the TARDIS: "it's bigger…on the inside."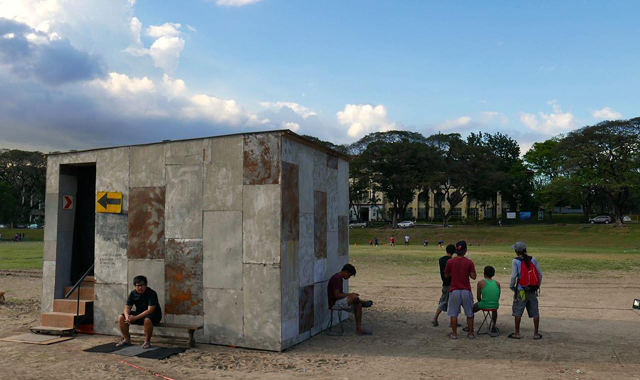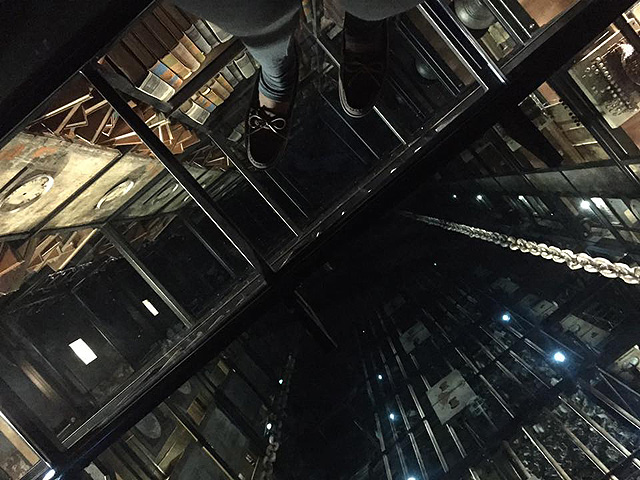 I was so happy because my student shared my excitement for Mark Justiniani's pieces. He was using video so I saw the look of surprise on his face when I sent him photos of the artworks.
Fast forward to a week later when my student recalled an interesting incident. He and his friend were discussing an upcoming art festival –Yokohama Triennale, when lo and behold, one of the participating artists was Mark Justiniani. My student couldn't remember Justiniani's name but he definitely recognized his art style. We both remarked that it was indeed a pretty amazing coincidence. I mean we were just talking about Justiniani and poof all of a sudden he had a chance to see his works in real life.
Weeks later, he went to Yokohama Triennale. Justiniani only exhibited two pieces, one of which is the very same piece I saw in an exhibit in UP Vargas Museum. The first photo below is the one I took last May 6, 2016 while the second one is the one taken by my student last November, 2017.
I had already felt a certain kinship with this student even before this happened but this kind of cemented the bond.